Pork Humba is a recipe which is very popular here in the Philippines. It has already gone thru a lot cooking variation. Pork humba is also sometimes associated with pork adobo because of some of the common ingredients.
As a Mom, one of the tasks that I need to think is what my child would eat for a meal instead of their usual favorites like hotdog and fried chicken. So as much as I like, I would have to prepare food that can be eaten by my pre-schooler kid.
What's funny though is she eats the meat, likes the sauce and set aside the pork fats and other ingredients.
I will be showing 2 recipes of Pork Humba. First is the Pork Humba with pineapple juice and the plain basic/original taste Pork Humba…
(1) Easy to cook pork humba with pineapple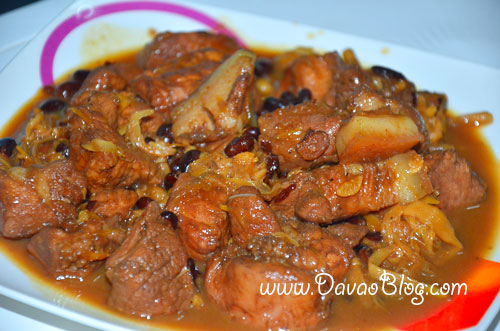 Ingredients:
Marinated pork
Black beans (Do not include the water)
Banana Blossom
Oil
Garlic
Onion
Brown Sugar
Pineapple Juice
Vinegar
Soy Sauce and Pepper
Black Pepper
Water as needed
1.) Marinate the pork with soy sauce and pepper
2.) Heat the cooking oil.
3.) Sautee garlic and onion
4.) Add the pork. Cook for 8 minutes.
5.) Pour the pineapple juice.
6.)  Add small vinegar, black beans, banana blossoms and the brown sugar.
7.) Pour the liquid (soy sauce with pepper use from marinated pork) . Add water if needed.
For more details, please see the video below:
#porkhumbarecipe
(2) Pork Humba Basic Recipes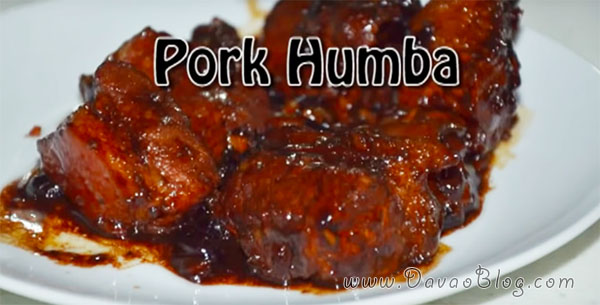 Pork Meat
Soy Sauce & Vinegar
Black Beans
Onions & Garlic
Bay leaves
Brown Sugar
Cooking Oil
Salt & Pepper
Water
Pork Humba Recipe Video:
Feel free to try and share 🙂