Banana cue or also known as "Maruya" is the all-time Pinoy's favorite snacks. A deep-fried recipe made of "saba" or "cardava" banana, coated in melted brown sugar. Sidewalk vendors famously sell this recipe. Most buyers will ask the seller: "Ate JS" which typically implies to JUICE and SAGING (Juice and Banana) – because Banana cue is best served with juice or soda.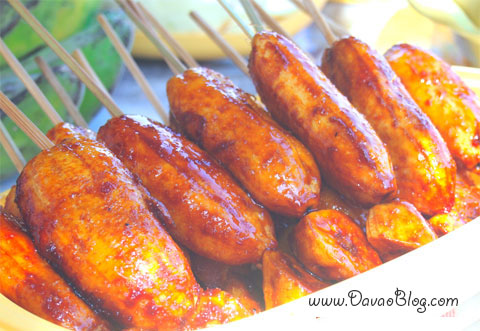 Ingredients:
12-15 pcs. Bananas (Saba or Cardava)
2 cups Brown Sugsar
Cooking Oil (Enough to deep-fried the bananas)
Cooking Procedures:
1. Heat the cooking oil.
2. Add Sugar and let it melt.
3. Gradually add the bananas. Stir gently. Estimated time of frying is 10-15 minutes or until melted sugar coats to the bananas.
… Enjoy!
For more details, please see the Fried Banana Cue (Maruya) cooking video below: