Wonton is a kind of dumpling that is well-known in Chinese cuisine. Wonton is usually prepared as soup or deep-fry. The usual filling of wonton is ground pork, but this recipe that we have is made from ground chicken, turnip, egg and spices that makes a chicken wonton soup an enjoyable savor.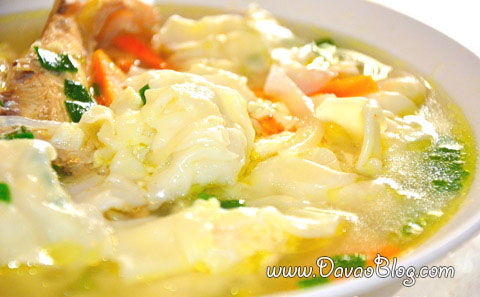 Chicken Wonton Soup Ingredients:
300 grams chicken (minced)
150 grams turnip (minced)
3 stems of green onions (minced)
1 small egg
wonton wrapper
1 teaspoon salt
1/2 teaspoon ground pepper
1 extra egg to close the wonton wrapper
Chicken Soup Ingredients:
500 grams chicken bones
150 grams carrots (cut into strips)
2 tablespoon fish sauce
1 medium size bulb onion (sliced)
3 stems of green onion (sliced)
2 liters of water
1 tablespoon of salt
ground pepper (according to taste preference)
Chicken Wonton Soup Cooking Procedures:
1. Pour 2 liters of water in a cooking pot. Add the chicken bones and the bulb onion. Boil. Lower the fire and simmer for 30-40 minutes. Add the salt.
2. Mix all the wonton ingredients in a plate, except the wrapper and the extra egg. Wrap the wonton (Please see details on the video below). Note: You can put little flour OR wipe little oil or butter on the wonton container plate so that, wanton will not stick on the plate.
3. Add the wonton and carrots to the soup. Add the fish sauce. Cook for 5 minutes.
4. Add ground pepper according to your taste preference.
5. Turn off the fire and garnish with green onions before serving the chicken wonton soup.
For more details, please see the Chicken Wonton Soup cooking video below:
You might also like: