Corned Beef Hash is a popular recipe in western countries. It is made with a boiled potatoes, sauteed in a melted butter with corned beef and whipped with heavy cream. This recipe is easy to prepare yet delectable.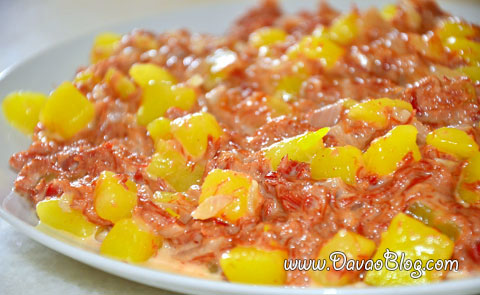 Corned Beef Hash Ingredients:
250 grams corned beef
200 grams potatoes (sliced in cubes)
1 teaspoon salt
3 cups of water
20 grams butter
1 medium size onion (minced)
80 ml heavy cream or whipping cream
1/2 teaspoon salt & 1 pinch black pepper (OR according to your taste preference)
Corned Beef Hash Cooking Procedures:
1. Pour water in a kettle & add potatoes with 1 teaspoon salt. Boil in 5 minutes.
2. Drain & set aside.
3. Heat and melt the butter in a wok. Saute onion.
4. Add the potatoes & cook for 2 minutes or until light brown.
5. Add the corned beef & mix well. Cook for 5 minutes.
6. Add the heavy cream & cook for 2 minutes.
7. Add salt & black pepper. Mix well & serve.
For more details, please see Corned Beef Hash Cooking video below:
You might like:
Tokwa't Baboy (Tufo & Pork) | Kangkong Recipe | Cheese Shrimp Recipe