This Mung Beans Soup recipe is added with Tuna Fish Chunks (Soya Bean Oil), complemented with coconut milk and pumpkins that make it one of the best alternative soups when you want to use Mung Beans as your main ingredient.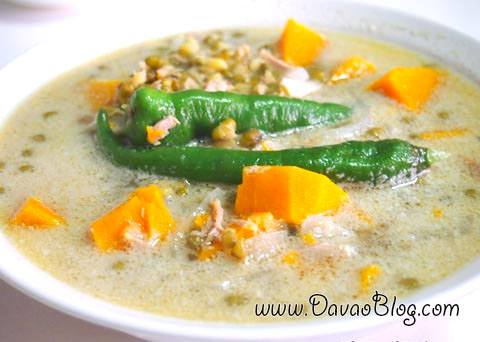 Mung Beans Soup Ingredients:
1 cup mung beans
1 can tuna chunks (with soya bean oil) – Wt: 185 g
250ml coconut milk
300 grams pumpkin
2 pcs. green chilli pepper
1 medium size onion (sliced)
5 cloves garlic (chopped)
10 grams ginger (sliced)
1 tablespoon salt and 1/2 teaspoon ground pepper (OR according to your taste preference)
Note: All the ingredients must be clean.
Mung Beans Soup Cooking Procedures:
1. Add 1 litre of water in the cooking pan and boil the mung beans until tender. Set aside.
2. Heat the tuna oil in a cooking pan.
3. Saute garlic, onion and ginger for 30 seconds.
4. Saute pumpkins for 1 minute. Add 1 liter of water and let it boil. Simmer for 3 minutes.
5. Add salt and ground pepper. Add tuna chunks and coconut milk. Let it boil.
6. Add mung beans and simmer for 2 minutes.
7. Add the green chili pepper and stir for 30 seconds. Serve
For more details, please see the Mung Beans Soup with Tuna Fish cooking video below:
You might also like: