Macaroni Soup with Broccoli is an easy to cook recipe blend with cream of mushroom which makes the soup rich and tasty.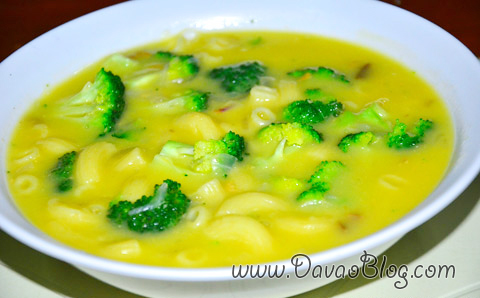 Macaroni Soup with Broccoli Ingredients:
1 cup macaroni
250 grams broccoli (sliced)
1 can chicken cream of mushroom (300grams)
1 medium size onion (minced)
750 ml water
small pinch of salt
Macaroni Soup with Broccoli Cooking Procedures:
1.) Boil 750ml of water.
2.) Add macaroni into the boiling water and cook for 10 minutes. (You can also see the cooking time of macaroni on its wrapper label)
3.) Add the onion and cream of mushroom. Stir it well. Let it boil.
4.) Add salt and stir.(You can also add small drops of ground pepper according to your taste preference, but remember cream of mushroom has flavor already).
5.) Add the broccoli and simmer it for one minute. (Do not overcook the broccoli to preserve its nutrients).
For more details, please see the Macaroni Soup with Broccoli cooking video below:
You might also like: