Menudo is considered an ideal food recipe serve during special occasions or gatherings. This recipe is made from pork stewed in tomato puree, added with vegetables and spices. A typical menudo recipe that is a bit different from the traditional one because this recipe doesn't include pork liver. Indeed, all the ingredients complement with each other and offer a mouth-watery taste.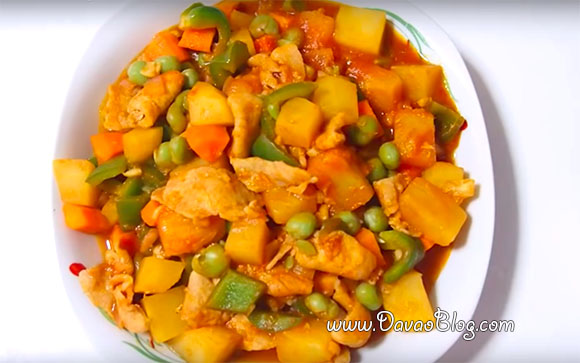 Menudo Ingredients:
300 grams pork meat (sliced)
200 grams potatoes (diced)
150 grams carrots (diced)
100 grams green bell pepper (diced)
5 cloves garlic (chopped)
1 medium size onion (chopped)
150 grams tomato puree
130 grams green peas (without water)
150 grams pineapple chunks/cubes
1 tablespoon salt
1 tablespoon sugar
1 tablespoon soy sauce
¼ tablespoon ground pepper
1 tablespoon cooking oil
½ cup water
Menudo Cooking Procedures:
1. Heat the cooking oil in a cooking pan.
2. Saute garlic and onion.
3. Add the pork meat and salt. Stir for 1 minute then add the soy sauce. Stir. Wait until meat become tender.
4. Add the potatoes and carrots. Add the tomato puree. Stir. Add the water and sugar and mix it. Cover and let it boil. Simmer for 5 minutes.
5. Add the pineapple chunks and green bell pepper. Stir then add the green peas and the ground pepper. Stir. Simmer for 2 minutes.
6. Serve with rice.
For more details, please see Pork Menudo Recipe cooking video below:
You might also like: