Fried rice is a great recipe to make use of the leftover rice. This is famous in Asian recipes . Fried rice has lot of cooking variations. However, this recipe is typically cook by stirring the ingredients in a wok or in applicable cooking pan.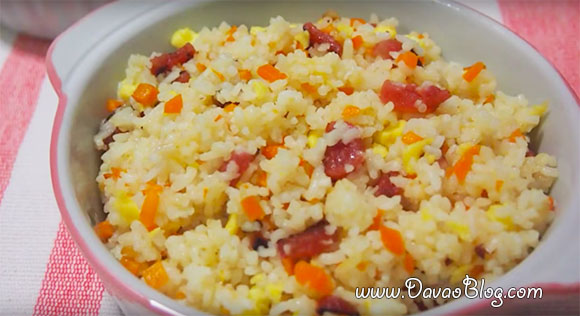 Fried Rice Ingredients:
750 grams leftover rice
150 grams dried sausage (chopped in small diced)
150 grams carrots (chopped in a very small diced)
6 cloves garlic (minced)
3 tablespoon light soy sauce
2 large egg (beaten with ¼ teaspoon salt)
1 tablespoon cooking oil
(Optional Ingredients: 100 grams drained green peas)
Fried Rice Cooking Procedures:
Heat the oil in a cooking pan and scramble the egg (Slice in small portion and set-aside). Clean the cooking pan.
Sauté dried sausage in a cooking pan (Stir for 1 minute and wait until oil come-out). Saute garlic for 30 seconds.
Add the carrots and cook for 2 minutes.
Add the light soy sauce and stir for 30 seconds.
Add the rice and mix it well.
Add the scrambled egg and stir for 1 minute.
For more details, please see the Fried Rice cooking video below:
You might also like: